Kolanticon Oral Suspension Gel 200ml
Kolanticon Oral Suspension Gel
Kolanticon Gel treats stomach complains such as Irritable Bowel Syndrome, where there are problems such as painful cramps, indigestion and flatulence (wind). The triple action formula contains three types of active ingredient:
Antispasmodic: Helps relieve painful muscle cramps by relaxing the muscles of the intestine.
Antacids: Helps to relieve indigestion by reducing acidity.
Antiflatulant: Brings together all the small bubbles of gas to form a large bubble which can be expelled.
Directions
Adults and children over 12 years:
The usual dose is two to four 5ml spoonfuls (10-20ml) every four hours if needed.
You should shake the bottle before use to mix the ingredients properly.
Then measure out the amount you need onto a 5ml spoon and swallow the liquid.
Ingredients
Active Ingredients (per 5ml): Dicycloverine Hydrochloride, 2.5mg, Aluminium Hydroxide 200mg, Magnesium Oxide 100mg and Simethicone 20mg.
Other Ingredients: Magnesium Sulphate, Methylcellulose 450, Benzyl Alcohol, Sodium Lauryl Sulphate, Saccharin Sodium, Alcohol 95%, Methyl Parahydroxybenzoate, Propyl Parahydroxybenzoate, Butyl Parahydroxybenzoate, Citric Acid, Oil of Cinnamon, Peppermint Oil, Oil of Spearmint, Oil of Cedar Leaf, Oil of Nutmeg, Eucalyptol, Menthol and Demineralised Water.
Cautions
Do not take Kolanticon Gel if:
You are allergic to any of the ingredients.
You have difficulty passing urine because of an enlarged prostate or other condition.
You have ulcerative colitis or other conditions affecting movement of food through the gastro-intestinal tract.
You have myasthenia gravis (a very rare muscle disease).
You have glaucoma (a condition involving increased pressure within the eye resulting in poor vision).
You are under 12 years of age.
Talk to your doctor or pharmacist before taking Kolantlcon Gel if:
You have or have had kidney problems.
You have a low phosphorus diet.You have a hiatus hernia (a condition with symptoms such as acid or food regurgitation).
You are pregnant, might be pregnant or are breastfeeding.
You are taking any other medicines, in particular antibiotics, ACE inhibitors, anticoagulants and other listed in the product leaflet. This is because Kolanticon Gel may affect the absorption of other medicines taken at the same time.
---

Free standard UK Delivery on all orders over £40
View full details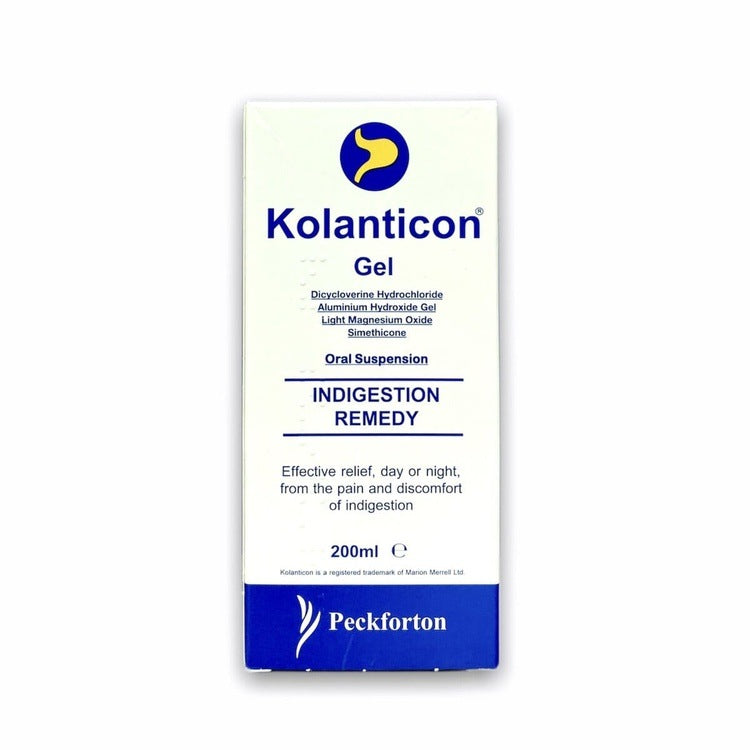 Kolanticon Oral Suspension Gel 200ml