Fresubin Energy (EASYBAG) (500ml)
Fresubin Energy 500ml Bag
An unflavoured liquid consisting of protein (milk and soya), fat (rapeseed, sunflower and fish oils), carbohydrate, vitamins, minerals and trace-elements.
Free from gluten
Lactose free
Presentation
Nutritionally complete, 1.5kcal/ml, liquid, ready to use tube feed. Fibre free. Presented in a 500ml crown cork bottle and 500ml, 1000ml and 1500ml EasyBag.
Contra-Indications
NOT FOR PARENTERAL USE
NOT SUITABLE WHERE ENTERAL NUTRITION IS NOT PERMITTED
NOT SUITABLE FOR INFANTS UNDER ONE YEAR OF AGE
Precautions
SHOULD ONLY BE USED UNDER MEDICAL SUPERVISION
NOT SUITABLE AS A SOLE SOURCE OF NUTRITION FOR CHILDREN UNDER 5 YEARS OF AGE
Indications for use
Fresubin energy is intended for the dietary management of patients at risk of malnutrition with high energy requirements and/or fluid restriction.
Fresubin energy is prescribable on FP10/GP10 for the following indications:
short bowel syndrome
intractable malabsorption
pre- operative preparation of patients who are undernourished
patients with proven inflammatory bowel disease
following total gastrectomy
bowel fistulae
disease related malnutrition

Dosage

Dosage should be calculated by a clinician or dietitian according to individual requirements.

As a guide, for complete nutrition 1500ml Fresubin energy provides 2250kcal and 84g protein and meets the average adult recommended daily requirements for vitamins, minerals and trace-elements.

When commencing tube feeding, it is recommended that the full dosage of Fresubin energy is introduced gradually over 2 3 days.

Storage

Store in a cool place, do not store above 25°C.

Once opened, can be stored for up to 24 hours in a refrigerator.

Shelf Life

Bottle: 18 months from date of manufacture.

EasyBag: 12 months from date of manufacture.




Energy Distribution

Protein 15%

Fat 35%

Carbohydrate 50%

Ingredients

Water, maltodextrin, milk protein, vegetable oils, acidity regulators (E 332, E 170, E 530), potassium chloride, fish oil (with soya lecithin), calcium phosphate, sodium citrate, magnesium chloride, emulsifiers (soya lecithin, E 471), choline hydrogen tartrate, vit. C, iron sulphate, zinc sulphate, vit. E, niacin, manganese chloride, pantothenic acid, sodium fluoride, copper sulphate, vit. B2, vit. B6, vit. B1, vit. A (with fish gelatine), beta-carotene, folic acid, chromium chloride, sodium selenite, sodium molybdate, potassium iodide, vit. K1, biotin, vit. D3, vit. B12.
---
---

Free standard UK Delivery on all orders over £40
View full details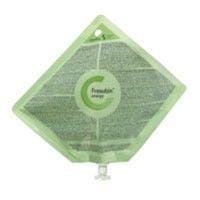 Fresubin Energy (EASYBAG) (500ml)