Fresubin Energy Protein Drinks Mixed Case 24 x 200ml
Fresubin Protein Energy Drink
A flavoured liquid consisting of protein (milk), vegetable oils (rapeseed oil, sunflower oil), carbohydrate (maltodextrin, sucrose), vitamins, minerals and trace-elements.

Presentation
Fresubin protein energy Drink is a high protein, high energy sip feed, rich in vitamins and trace elements.
Fresubin protein energy Drink is ready to use and presented in a 200ml bottle with straw. It is available in five flavours: wild strawberry, vanilla, chocolate, tropical fruits and cappuccino.
Lactose and gluten free
Ingredients - Always check the leaflet due to slight variations between flavours
Water,milk protein,vegetable oils (rapeseed oil,sunflower oil),maltodextrin,sucrose, flavourings, potassium citrate, colouring food: beetroot powder, emulsifiers (soya lecithin, E471), sodium chloride, vit. C, magnesium citrate, iron pyrophosphate, potassium chloride, zinc sulphate, niacin, manganese chloride, pantothenic acid, copper sulphate, vit. B2 , vit. B6, sodium fluoride, vit. E (with fish gelatine), vit. B1 , ß-carotene, vit. A, folic acid, potassium iodine, chromium chloride, sodium selenite, sodium molybdate, vit. K1 , biotin, vit. D3 , vit. B12.
---

Free standard UK Delivery on all orders over £40
View full details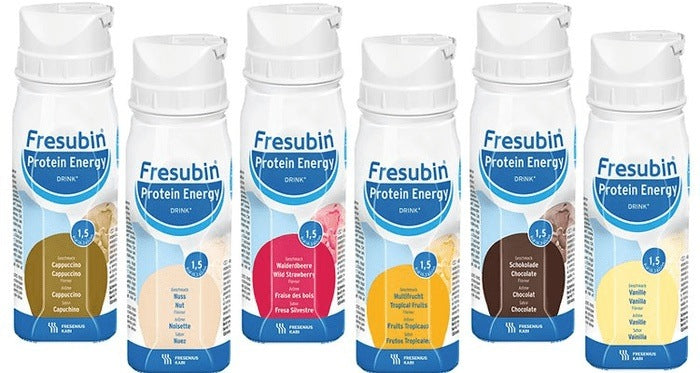 Fresubin Energy Protein Drinks Mixed Case 24 x 200ml