Genii Ostomy Seals (35-50mm)- TR1028 x 30 (Trio Siltac)
Genii Ostomy Seals. 
Genius for preventing leaks.
Are you getting leaks? Is your skin red and sore under your flange? This could be caused by gaps between your stoma and bag. 
Genii Ostomy Seals are designed to protect the skin immediately around the stoma from irritation and breakdown by providing a snug fit and helping skin to breathe. 
Quick and easy to apply, they simply stretch around your stoma, without the need for warming, and then retract to provide a custom fit. These seals are so flexible, theyll adapt to your bodys movement throughout the day.
Available in small, medium and large to suit all stoma sizes. 
Genii Ostomy Seals unique flexibility can comfortably respond to the changing size and shape of your stoma.
Brand:Genii Type:Ostomy Seals
View full details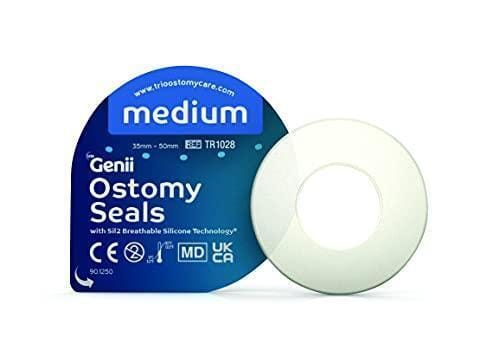 Genii Ostomy Seals (35-50mm)- TR1028 x 30 (Trio Siltac)