Mextra 610200 Superabsorbent Dressing 12.5cm x 22.5cm x 90
Mextra 610200 Superabsorbent Dressing
Mextra Superabsorbent wound dressing delivers high fluid absorption and retention. It can be used to manage highly exuding wounds such as venous leg ulcers, diabetic foot ulcers and some pressure ulcers.
Mextra's high fluid handling capacity helps reduce the risk of leakage and maceration through absorption and retention properties. It may also minimize the need for frequent dressing changes and may lead to reduced treatment costs.
The soft border makes it conformable and easy to work with. Plus it's comfortable for your patients. It maintains its structure and integrity without becoming bulky once exudate is absorbed.
Features:
- High fluid absorption and retention
- The dressing is soft and conformable
- Has protease modulating properties
When to use Mextra Superabsorbent
Mextra Superabsorbent design is suitable for managing highly exuding wounds, such as venous leg ulcers, diabetic foot ulcers, and in some cases pressure ulcers. The polyacrylate superabsorbent particles have a protease modulating activity and provide an environment that?s conducive to healing. The fluid-repellent backing material protects against fluid strike-through.
Brand:Mextra EAN:Does not apply MPN:4055257 Type:Wound Dressing Main Purpose:Wound Care
View full details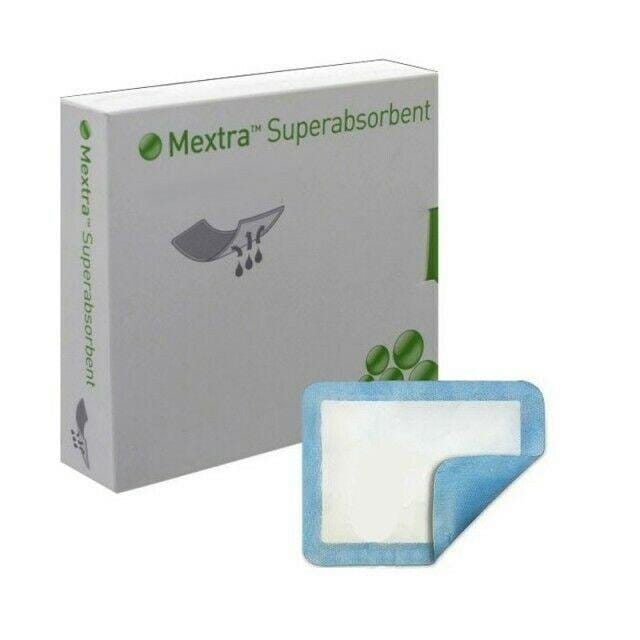 Mextra 610200 Superabsorbent Dressing 12.5cm x 22.5cm x 90