Fresubin 2kcal Minis Chocolate With Fibre (4 x 125ml)
Fresubin 2kcal Minis With Fibre
Fresubin® 2kcal Fibre Mini drink is a high energy, nutritionally complete sip feed containing fibre.
Fresubin® 2kcal Fibre Mini drink is ready to use and presented in 125ml bottle.
Lactose and gluten-free
Fresubin® 2kcal Fibre Mini drink is available in a choice of 2 flavours:
Product Characteristics
Energy
2.0kcal/ml
Energy Distribution
Protein
20% energy
Fat
35% energy
Carbohydrate
43.5* / 43.4** % energy
Fibre
1.5* / 1.65** % energy
Contra-indications
For enteral use only
Not suitable for infants under 1 year of age
Precautions
Should be only be used under medical supervision
Use with caution in children under 6 years of age
Storage
Store in a cool place, do not store above 25°C.
Once opened, can be stored for up to 24 hours in a refrigerator.
Shelf life
15 months from date of manufacture.
---
---

Free standard UK Delivery on all orders over £40
View full details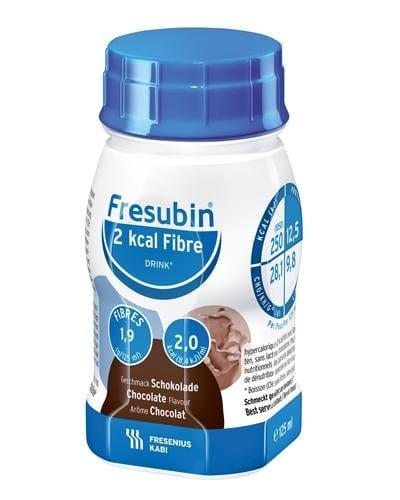 Fresubin 2kcal Minis Chocolate With Fibre (4 x 125ml)