Nutricia Souvenaid Vanilla 125ml x 24 - Special Offer
Nutricia Souvenaid
Nutricia Souvenaidis a new and innovative drink for the dietary management of early Alzheimer's disease.
Souvenaid contains Omega 3 fatty acids, uridine monophosphate and choline, together with several key vitamins, which are difficult to achieve from diet alone. The unique combination of nutrients in Souvenaid has been designed to support synapse formation in people living with early Alzheimer's disease.
Souvenaid is ready to drink straight from the bottle.Souvenaid doesn't need to be kept refrigerated but tastes best when taken chilled.
No drug interactions have been seen in clinical trials.
Key Features of Nutricia Souvenaid
Dietary management of early Alzheimer's disease
Designed to support synapse formation
Unique combination of nutrients
Ready to drink milkshake style
Pleasing strawberry flavour
125ml bottles
No drug interactions
Ingredients
Souven-aid

is not to be consumedwhensensitive to fish oil, soy or milk.
List ofkey ingredientsin
each
125ml bottle
EPA* (fish oil) 300mg

DHA** (fish oil) 1200mg

Phospholipids 106mg

Choline 400mg

UMP (uridine monophosphate) 625mg

Vitamin E 40mg

Vitamin C 80mg

Selenium 60µg

Vitamin B12 3µg

Vitamin B6 1mg

Folic acid 400µg
* EPA = eicosapentaenoic acid
** DHA = docosahexaenoic acid
Souvenaid should be recommended for use by a
healthcare professional
Discount codes cannot be used with this product

Orders of 125ml x 24 or more are exempt from free shipping due to the size/weight
---

Free standard UK Delivery on all orders over £40
View full details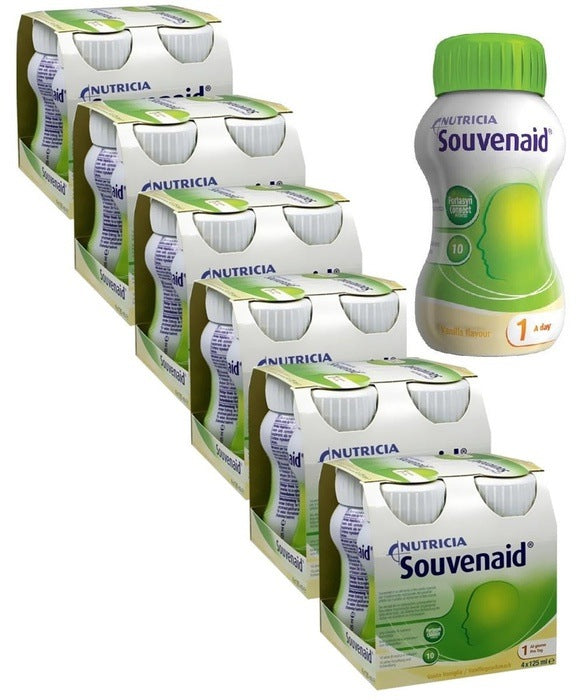 Nutricia Souvenaid Vanilla 125ml x 24 - Special Offer