Pharmaton Advance Multivitamin and Mineral Caplets x 100
Pharmaton Advance/Vitality11 Caplets
High in 11 vitamins & minerals each contributing to support energy release1 + Ginseng
Energy support1: vitamins B1, B2, B3
Mental performance2: vitamin B5
Immunity support3: vitamins C & D
Pharmaton Vitality11 are scientifically formulated with, and high in 11 vitamins & minerals that each contribute to normal energy yielding metabolism + Ginseng G115. Our formula contains nutrients, which help your body with 3 elements:
Vitality
1Vitamins C, B1, B2, B3, B5, B6, B7, B12, iron, copper and manganese each contribute to normal energy yielding metabolism
Mental performance
2Vitamin B5 contributes to normal mental performance
Immune system
3Vitamins C & D each contribute to normal function of the immune system
Suitable for
How to use
Dosage
For oral use
Adults over 18 years: Recommended daily dose is one film-coated tablet per day in the morning with a glass of water, preferably at breakfast.
Hazards and Cautions
Food Supplements are intended to supplement the diet and should not be substituted for a varied diet or healthy lifestyle.


Warnings:
Do not exceed the recommended daily dose
Food supplements are not intended to be a substitue for a balanced and varies diet and a healthy lifestyle
Not suitable for children. Keep out of sight and reach of children.
This product contains iron which can be harmful to young children if consumed in excess
This product contains vitamin A. Do not take if you are pregnant or likely to become pregnant except on the advice of a doctor or antenatal clinic
Storage
Keep bottle tightly closed, in a dry cool place, protected from light.
Ingredients
Bulking agent: microcrystalline cellulose; magnesium oxide; calcium L-ascorbate (vitamin C); lactose (milk); dry extract of ginseng root Panax ginseng CA Meyer; DL-alpha-tocopheryl acetate (vitamin E); zinc sulphate; ferrous sulphate; stabiliser: polyvinylpolypyrrolidone; nicotinamide (niacin); retinyl palmitate (vitamin A) (carriers: sucrose, fish gelatin, corn starch, antioxidant: alpha tocopherol); glazing agent: polyvinyl alcohol; anti-caking agent: silicon dioxide; D-pantothenate, calcium (pantothenic acid); manganese sulphate; colour: iron oxides and iron hydroxides; glazing agent: polyethylene glycol; anti-caking agent: sodium, potassium and calcium salts of fatty acids; pyridoxine hydrochloride (vitamin B6); glazing agent: talc; thiamine mononitrate (vitamin B1); cholecalciferol (vitamin D) (carriers: modified starch, sucrose and medium chain triglycerides, antioxidants: sodium ascorbate and alpha-tocopherol, anti-caking agent: silicon dioxide); cupric sulphate; riboflavin (vitamin B2); flavours: vanillin and chocolate; folic acid (vitamin B9); sodium selenite; D-biotin; cyanocobalamin (Vitamin B12).

Free standard UK Delivery on all orders over £40
View full details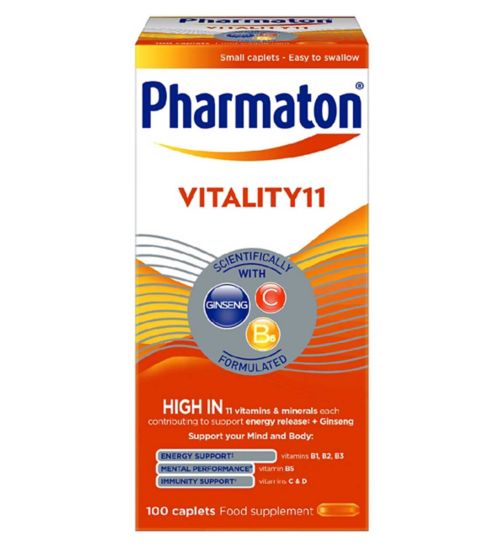 Pharmaton Advance Multivitamin and Mineral Caplets x 100