ProSource Jelly Fruit Punch 118ml x 36
ProSource Jelly
With 20g protein in every 118ml serving, ProSource Jelly is a new and truly unique option in oral nutrition.
Available in Blackcurrant, Lime, Orange and Fruit Punch flavours, ProSource Jelly is ready to eat straight from the cup, tastes great and offers a refreshing alternative to patients who need additional protein without unnecessary volume.
ProSource Jelly contains very low carbohydrate levels, is low in electrolytes and is complete in all essential & non-essential amino acids.
Features & Benefits
20g protein in each 118ml single serving cup
Ideal for protein energy malnutrition and/or patients on a fluid restricted diet e.g. wounds, pressure sores, burns, renal disease, oncology, liver disease, bariatrics and elderly malnourished
A ready to eat jelly
Can be eaten straight from the cup and offers a new option to patients tired of typical ONS or pudding type products
Available in 4 great tasting flavours
Blackcurrant, Lime, Orange and Fruit Punch options provide a high level of patient compliance
Contains very low carbohydrates
Suitable for patients requiring protein supplementation where carbohydrates are restricted
Uses hydrolysed protein
Hydrolysis breaks down the amino acid chain lengths, which aids gut absorption. ProSource Liquid behaves as a Semi-Elemental products
Low in electrolytes
Ideal for patients requiring a low electrolyte diet, such as those on Renal Dialysis
Low residue
Suitable for those needing a clear liquid diet
Suitable for dysphagia patients
Amylase resistant, may be suitable for certain patients with dysphagia – always consult your local speech and language therapist
Administration, Dosage & Directions for use
ProSource Jelly should be administered by a clinician or dietitian and dosage is dependent on the age, body weight and medical condition of the patient.
Indications
For the dietary management of hypoproteinaemia. ProSource Jelly is prescribable on FP10/GP10 for the following: Hypoproteineamia
Precautions & Contra-indications
Must only be used under strict medical supervision. For enteral use only. Not suitable as a sole source of nutrition. Not recommended for children under 3 years of age. May not be suitable for vegetarians and other groups due to processing of some of the ingredients. Contains porcine derivatives.
Shelf Life & Storage
ProSource Jelly has a shelf life of 18 months from date of manufacture. Store unopened at room temperature (not exceeding 25oC). Once opened, consume immediately or store in a refrigerator and consume within 24 hours.

Free standard UK Delivery on all orders over £40
View full details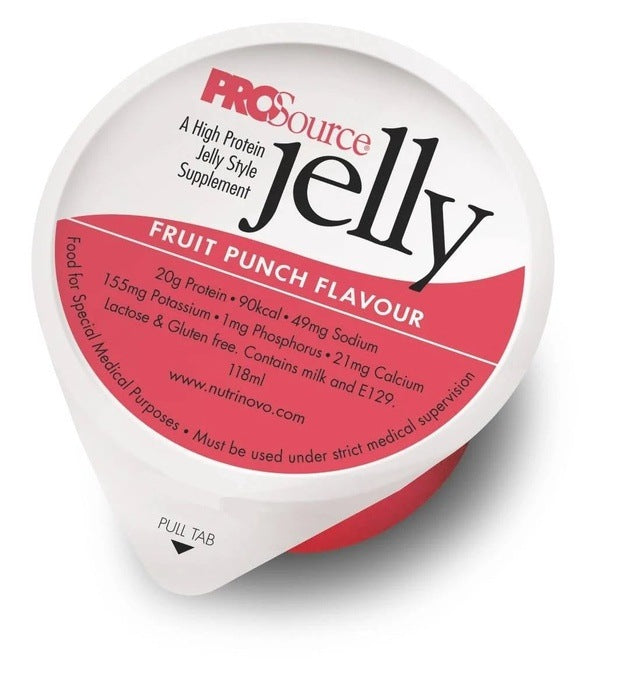 ProSource Jelly Fruit Punch 118ml x 36