SMA Organic Growing Up Milk 1 to 3 Years 800g
SMA Organic Growing Up Milk
Features- Certified organic.
- Vitamin D and calcium to support the normal growth and development of bones.
- NOTE: Packaging may vary.
- Imported from UK.
SMA Organic Growing Up Milk from the 12th month.
Science Inspired by NatureSMA Nutrition has been leading baby nutrition research for over 100 years, and our team of nutritionists have expert understanding of the evolving nutritional needs of young children, as they go through an amazing period of physical growth and cognitive development. SMA Organic Growing Up Milk is one way to help support your child's nutrient intake in combination with a healthy balanced diet.
The cows that produce our high quality organic milk spend time outside where they can graze on green pastures and are fed organic feed.
IMPORTANT NOTICE: Breast milk is best for babies and breastfeeding should continue for as long as possible. SMA Organic up Milk is suitable for young children form the 12th month, as part of a healthy balanced diet and it is not suitable as a breast milk substitute. The decision to start weaning or to use follow-on milk before 6 months, should be made only on the advice of a doctor, midwife, health visitor, public heath nurse, dietitian or pharmacist, based on baby's individual needs. Never leave your toddler alone during feeding as there is a risk they might choke.
Ingredients
Organic Skimmed Milk, Organic Vegetable Oils (Sunflower, Rapeseed), Organic Lactose (MILK), Organic Maltodextrin, Organic Demineralised Whey Protein (MILK), Minerals (Calcium Citrate, Sodium Citrate, Potassium Citrate, Potassium Phosphate, Magnesium Chloride, Ferrous Sulphate, Potassium Chloride, Zinc Sulphate, Copper Sulphate, Manganese Sulphate, Potassium Iodide, Sodium Selenate), Emulsifier (SOYA Lecithin), FISH Oil (DHA), Vitamins (C, E, Pantothenic Acid, Niacin, Thiamin, A, B6, Folic Acid, K, Biotin, D, B12), Arachidonic Acid-Rich Oil (AA), Antioxidants (Tocopherol-Rich Extract, Ascorbyl Palmitate)
Directions
Preparation and Usage Feeding Guide from 12th Months to 3 Years 1 serving = 200 ml: 1 breaker; Amount of cooled, boiled water: 180ml, 6 fl. oz. (approx.); Number of scoops of powder: 6 6 scoops of powder added to 180 ml (6 fl. oz. approx.) water makes 200 ml (7 fl. oz. approx.) milk drink. Young children have different nutritional needs, but after 12 months we recommend your child has around 400 ml of milk per day. You can feed your child up to 3 servings per day depending on their individual nutritional needs. Mix 1 scoop of powder to 30 ml (approx. 1 fl. oz.) of water. Approx 177 scoops per can. 1 scoop = 45g.
Safety Warning
Important Feeding Information Do not add extra powder or water to make the feeds stronger or weaker and do not press powder into scoop. Using too much or too little powder can make your baby ill. We recommend preparing each feed in individual beaker when required. For hygienic reasons, discard unfinished feed in the breaker as soon as possible. Made-up formulae can be poured over cereals and mixed with food. Do not alter or add to formulae unless medically directed. Do not warm feeds in a microwave, hot spots may occur and cause scalding.
---

Free standard UK Delivery on all orders over £40
View full details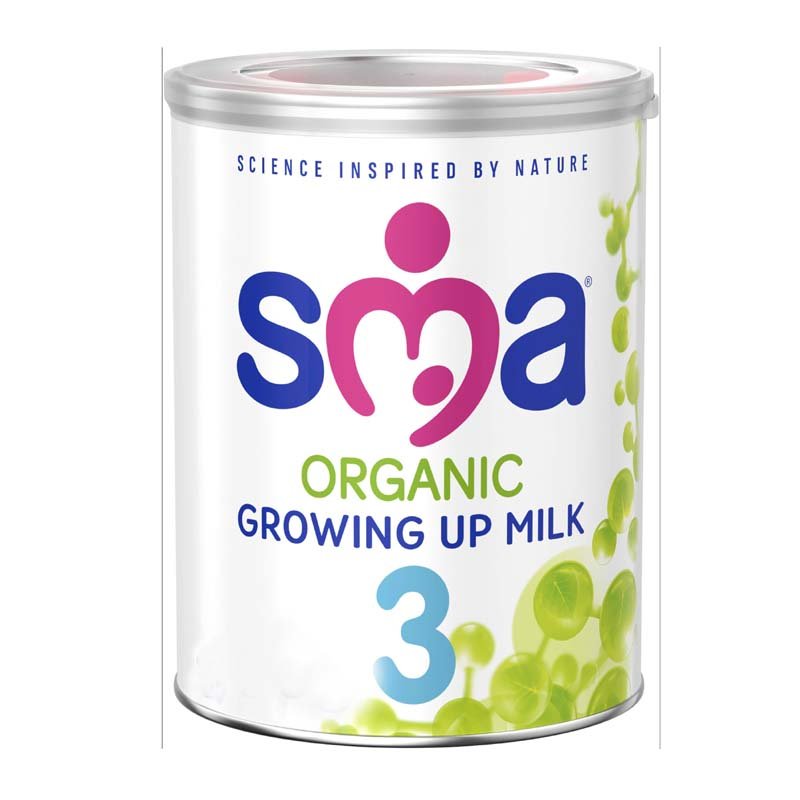 SMA Organic Growing Up Milk 1 to 3 Years 800g