SunVit-D3 Vitamin 20000IU Film Coated Tablets x 28 | Vitamin D
SunVit-D3 Film-Coated Tablet Vitamin D Supplement
SunVit-D3 Film-Coated Tablets contain vitamin D (Colecalciferol/Cholecalciferol) and are the vitamin D supplement of choice for many hospital trusts and community medicines management teams.
To maintain healthy vitamin D levels, health professionals recommend a daily maintenance of 1,000 IU - 2,000 IU of vitamin D and the range also contains higher strengths which may be taken under medical supervision.
The Department of Health recommends that vitamin D supplementation may be particularly beneficial for pregnant/breastfeeding women, children aged under five years old, people aged 65 or over, people who are not exposed to much sun (e.g. people who are housebound or who cover up their skin for cultural reasons) and those with darker skin.
SunVit-D3 Film-Coated Tablets are free from gelatin, peanut oil, yeast, wheat, soy, gluten and dairy products, although they contain traces of lactose. They are suitable for kosher patients and are officially approved by The Vegetarian Society and the Halal Monitoring Committee.
Ingredients:
Active Ingredient: Pure Vitamin D (Colecalciferol/Cholecalciferol)
Other Ingredients: Lactose Monohydrate EP, Microcrystalline Cellulose EP, Colloidal Anhydrous Silica EP, Croscarmellose Sodium EP, Stearic Acid EP, Magnesium Stearate EP, Methylcellulose EP, Titanium Dioxide EP and Purified Talc EP.
---

Free standard UK Delivery on all orders over £40
View full details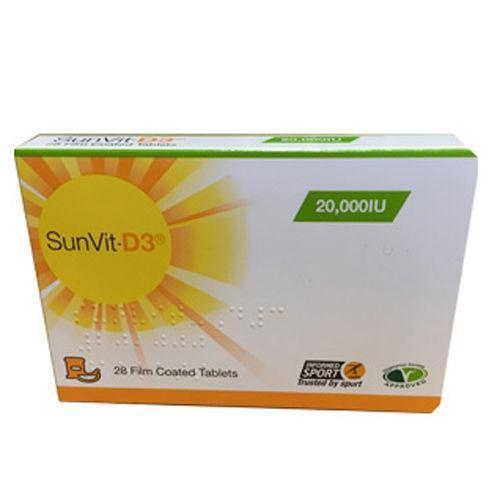 SunVit-D3 Vitamin 20000IU Film Coated Tablets x 28 | Vitamin D