Suprasorb P Sensitive Non Border Silicone Dressing 10cm x 10cm x 10
Suprasorb P Sensitive Non Border Silicone Dressing
Features:
- Suprasorb P silicone is a three-layered wound dressing with a wound-facing soft silicone layer, a polyurethane foam layer and a polyurethane foam carrier layer.
- Suprasorb P silicone maintains a moist wound healing environment and thereby assists the natural healing process.
- Exudate and factors which inhibit wound healing are absorbed fast and evenly into the dressing. 1) 2) 3)
- The open-pored foam structure and the generously dimensioned perforation of the adhesive silicone layer result in the good exudate management of Suprasorb P silicone.
- The wound dressing is easy to apply and can be removed causing virtually no pain.
- Suprasorb P silicone is particularly gentle on the wound bed and the sensitive skin surrounding the wound. 1)
Advantages:
Protection
- impermeable to bacteria and water
- permeable to water vapour
- provides comfort and a cushioning effect 4)
Soft and comfortable
- minimises pain to the patient when the dressing is removed 2)
- and trauma to the wound and the surrounding skin 2)
- comfortable thanks to absorbent PU foam 5)
Efficient exudate management
- facilitates rapid absorption of exudate into the dressing
- maintains moist environment 2)
- reduces the risk of maceration 1)
Fields of application:
For treating the following wounds:
- wounds with low to moderate levels of exudate
- superficial to deep* wounds
- combine with a suitable wound filler for deep wounds
- to prevent skin injuries or lacerations
For all phases of wound healing, e.g.:
- venous and arterial ulcers
- pressure ulcers
- diabetic ulcers
- 1st and 2nd degree burns
Indications:
- pressure ulcers
- leg and foot ulcers
- traumatic wounds
- surgical wounds
- skin graft and donor sites
- skin tears
- burns (1st and 2nd degree)
Can be used in combination with gels also on dry or necrotic wounds
Properties:
- can be applied easily and removed virtually painlessly
- gentle on the wound bed and sensitive surrounding skin
- secure retention the whole time the dressing is worn
- promotes a moist wound healing environment
- good exudate management
To note
Dressing change interval:
- To be determined by the attending physician based on the wound condition, level of exudate, and secondary dressing used, but no longer than 7 days.
- Suprasorb P silicone can be used as a secondary dressing for wounds at risk of infection within the scope of a regular antimicrobial therapy regimen.
- When dry, Suprasorb P silicone can easily be cut to the size of the individual wound. The dressing should overlap the wound edges by approx. 2 cm.
Main Purpose:Wound Care Brand:Lohmann & Rauscher Type:Wound Dressings EAN:Does not apply Material:Silicone MPN:4146155
---

Free standard UK Delivery on all orders over £40
View full details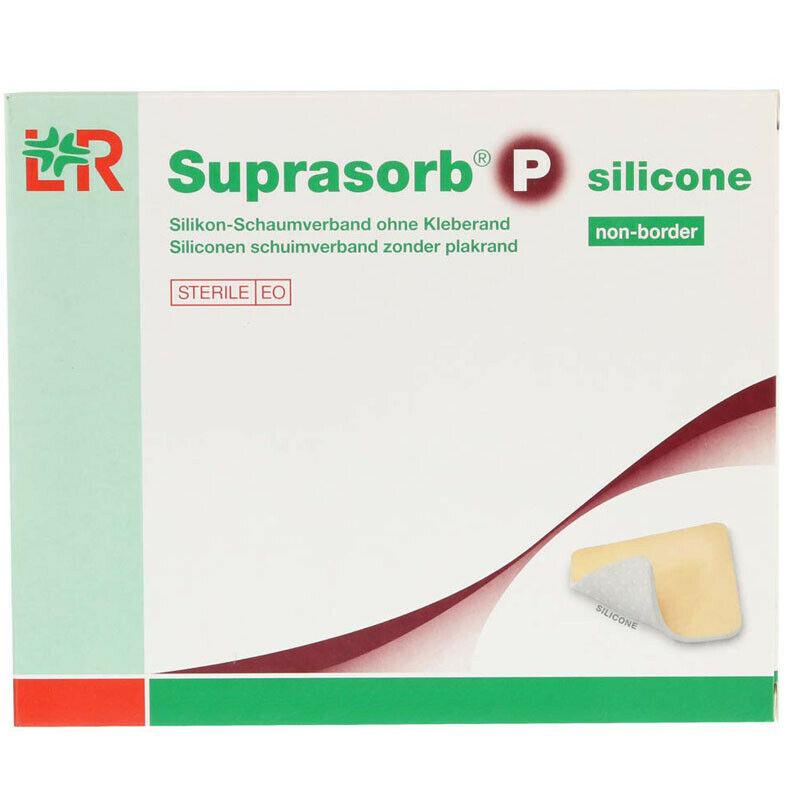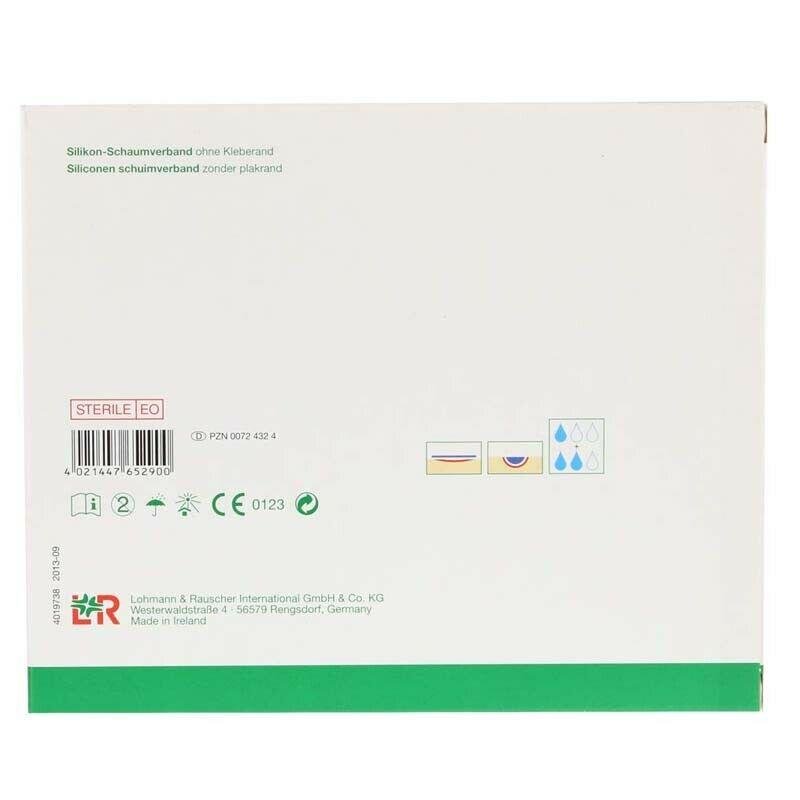 Suprasorb P Sensitive Non Border Silicone Dressing 10cm x 10cm x 10