Vicks BabyRub For Babies 50ml
Vicks BabyRub For Babies 50ml
Introducing NEW Vicks BabyRub - specially developed to gently moisturize, soothe and relax your baby. It is made with Aloe Vera and White Soft Paraffin, known for their moisturizing benefits. It also contains fragrances of Lavender & Rosemary, known for their calming and relaxing benefits.
A good BabyRub massage can help your baby's skin retain moisture and stay soft, making your baby feel more comfortable. Apply on chest, neck, back and soles of feet for moisturizing and soothing baby care.
Specially developed in association with baby and skin experts, Vicks BabyRub is suitable for babies 6 months and above. It has a long history in US, Canada, Australia and New Zealand. With millions of packs sold, moms worldwide have trusted Vicks BabyRub for their babies. Are you a Vicks BabyRub mom yet?
The gentle Vicks BabyRub formula is specially developed for babies 6 months and above. Contains Aloe Vera and fragrances of Lavendar, Rosemary.
Directions:
Gently massage on chest, neck, back & soles of feet. Don't use directly on face, broken skin, in mouth or in nostrils. Keep out of kids' reach.
Caution:
For external use only
For External Use Only. If applying to feet, keep feet covered to prevent accidental ingestion. Avoid contact with eyes. Don't heat in water/vaporizer/microwave oven/stove. Keep lid on when not in use.
Ingredients:
Content (% w/w): Aloe Vera (Aloe barbadensis, Lf., extract) 0.0286, Excipients (Fragrances and White Soft Paraffin): q.s.

Free standard UK Delivery on all orders over £40
View full details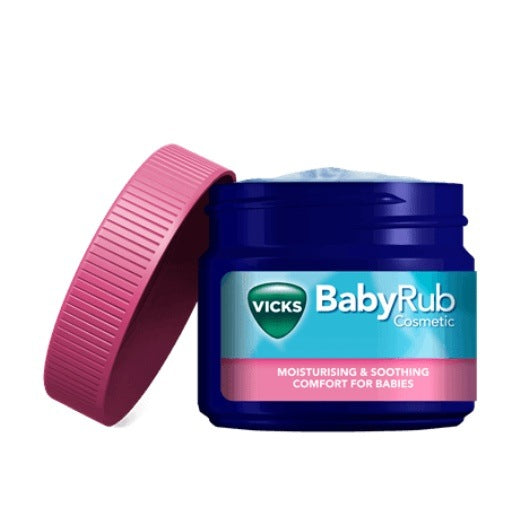 Vicks BabyRub For Babies 50ml