UrgoStart Dressing 6cm x 6cm x 10
Urgostart Dressing
UrgoStart® is a soft-adherent foam dressing with TLC (Technology Lipido-Colloid) and healing accelerator (NOSF Nano-OligoSaccharide Factor). It is made of a soft-adherent TLC-NOSF layer (lipido-colloid and healing accelerator particles), combined with an absorbent foam pad and a semi-permeable backing.
UrgoStart is an absorbent hydrocellular lipido-colloid dressing with a micro-adherent TLC-NOSF matrix, an innovative technology developed by Laboratoires Urgo.
Leg ulcers, diabetic foot ulcers and pressure ulcers take an average of 210 days to heal.
UrgoStart is a local treatment that reduces the healing time of these types of wounds by an average of 100 days.

Properties
Soft-adherent TLC–NOSF layer = Effective healing
Promotes faster healing and improves patients' quality of life
Neutralises excess proteases (MMPs)
Re-establishes wound equilibrium
With all the benefits of TLC:
pain-free dressing changes, moist wound-healing, good tolerance, stimulation of fibroblast proliferation
Clinically proven
Easy to apply and very conformable
Greater patient compliance and acceptability
Absorbent pad
Absorbs low to moderate levels of exudate
Can be used under compression
Semi-permeable backing
Prevents maceration
Indications
Low to moderately exuding leg ulcers, pressure ulcers, diabetic foot ulcers and recurring wounds
Minimum duration of treatment 4-5 weeks
Secure with a retention bandage (K-Band, K-Lite)
Can be left in place for up to 7 days
Contraindications
To prevent any risk of delay in appropriate treatment,UrgoStartis contraindicated in cancerous wounds and in fistular wounds demonstrating deep abscess formation.
Do not useUrgoStartin the event of known sensitivity to the dressing.
---

Free standard UK Delivery on all orders over £40
View full details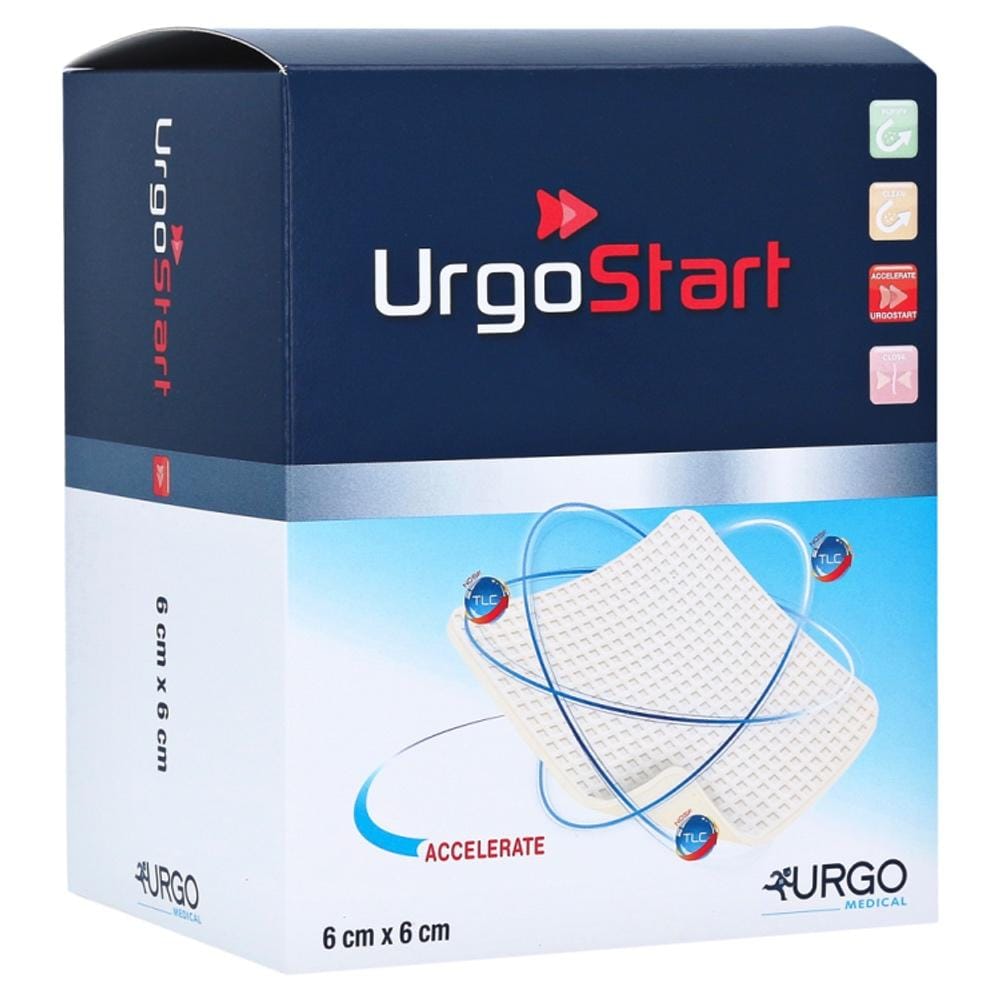 UrgoStart Dressing 6cm x 6cm x 10